Moon-Based Telescope Observation Of M101 Spiral.
Is First Galaxy Imaged From The Moon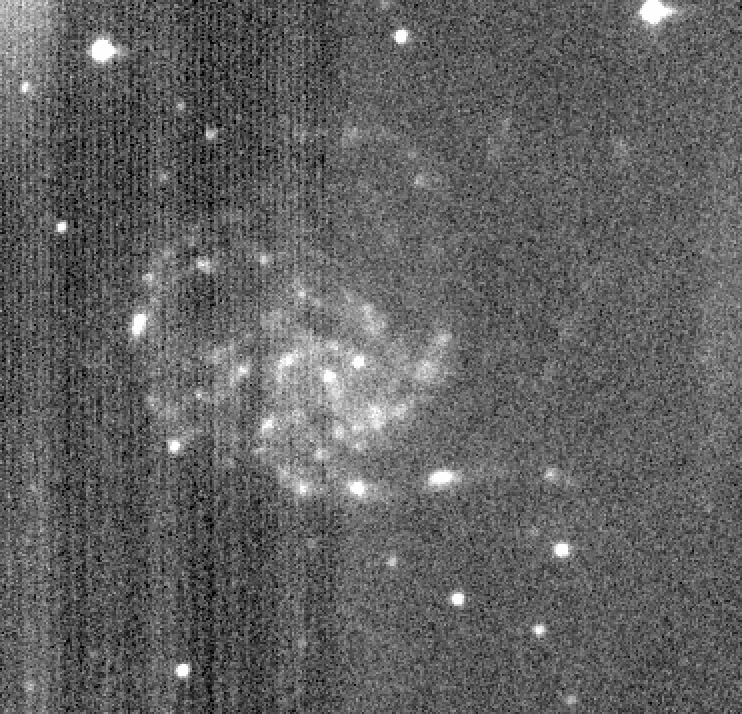 Great Astronomy From The Moon Potential Confirmed By China Chang'e-3 Lunar Ultraviolet Telescope LUT Observations On 2 December At Beginning Of Lunar Day 13; Iconic 2014 Photo To Be Refined Further By NAOC Astronomers In Beijing, In Collaboration With ILOA And UHH, CFHT Lunar Astronomy Team On Hawai`i Island USA, Introducing Bright, Robust New Year 2015

Image Credit: National Astronomical Observatories of China & International Lunar Observatory Association; University of Hawaii Hilo, Canada France Hawaii Telescope

Breaking News Special New Year EditionThursday / 1 January 2015 | Lunar Enterprise Daily
Pillars of Creation
The Eagle Nebula, Revisited. NASA, ESA, and the Hubble Heritage Team (STScI/AURA)
The iconic Hubble photograph,
the Pillars of Creation
, caused a stir when it was released in 1995. Now, 20 years later, the Hubble has revisited the Eagle nebula to capture a sharper vision of the 'Pillars', towers of gas that are more than five light-years tall.
NASA's Hubble Space Telescope has taken a bigger and sharper photograph of the iconic Eagle Nebula's "Pillars of Creation," shown at right. The original 1995 Hubble image of the gaseous towers, taken with Hubble's Wide Field Planetary Camera 2, is shown at left.
Astronomers combined several Hubble exposures to assemble a wider view of the pillars, which stretch about 5 light-years high in the new image. The dark, finger-like feature at bottom right may be a smaller version of the giant pillars. The image was taken with Hubble's versatile and sharp-eyed Wide Field Camera 3.
The pillars are bathed in the blistering ultraviolet light from a grouping of young, massive stars located off the top of the image. Streamers of gas can be seen bleeding off pillars as the intense radiation heats and evaporates it into space. Denser regions of the pillars are shadowing material beneath them from the powerful radiation. Stars are being born deep inside the pillars, which are made of cold hydrogen gas laced with dust. The pillars are part of a small region of the Eagle Nebula, a vast star-forming region 6,500 light-years from Earth.
In the new image at right, oxygen emission is blue, sulfur is orange, and hydrogen and nitrogen are green.
Object Names:
M16, Eagle Nebula, NGC 6611
Image Type:
Astronomical/Annotated
The Moon and the Earth and then changing positions
Fantastic shots taken during Chang'e 5T1's mission
Orbiting Mars. NASA
This illustration is supposed to be of MAVEN, a NASA spacecraft that entered orbit around Mars September 2014.
A Cloud City Above Hellish Surface Of Venus
Venus Cloud City. NASA
An artist rendering of the HAVOC project
Curiosity
rover for trip to Mars, NASA
The biggest and baddest ground-based telescopes are on their way
Location: Mauna Kea, Hawaii
First Light: 1992
When it came online in 1992, Keck was twice the size of the biggest telescopes at the time. So many astronomers wanted to use it that the designers quickly built another nearly identical scope: Keck II, equipped with different instruments, which saw first light in 1996. Since then, the pair has yielded major discoveries, including dark energy, which won a 2011 Nobel Prize. Popular Science

Artist Rendering Of Lunar Mission One