T333 UAV
T333 UAV unveiled by Beijing company
by Wendell Minnick in Zhuhai
Beijing-based Zhong Hang Zhi Technology (ZHZ) exhibited a new coaxial dual-rotor UAV dubbed the T333 at the biennial 11th Zhuhai Air Show, along with an upgraded variant of the TD220 coaxial dual-rotor unmanned helicopter.
The T333's modular design has a maximum take-off weight of 3t (with a 1.5t payload), an endurance of 30 hours with a payload of 200kg, a maximum altitude of 9,000m and a top speed of 300km/h. The UAV has a non-bearing composite rotor, H-type tail and retractable three-wheel landing gear.
The aircraft is being marketed to both the commercial and security/police markets. No sensors or additional payloads were mentioned in company literature.
Elsewhere, the TD200 has undergone a design makeover that conceals its external gimbals and sensors, though the aircraft retains its coaxial dual-rotor and H-type tail. Despite its structural changes, the UAV's range, weight, endurance and speed remain the same.
The first time the TD220 made an appearance at an Asian show was at the 2014 Singapore Air Show, where the aircraft was promoted for civil and commercial surveillance missions.
During the 2014 Singapore Air Show, ZHZ also promoted the TC unmanned helicopter for commercial surveillance and patrol missions, but the aircraft was absent in Zhuhai in 2016.
V750 rotary-winged UAV, the QY-1
A fully weaponised military variant of the V750 rotary-winged UAV, the QY-1, was on display at the 11th Zhuhai Air Show held from 1-6 November.
The V750 began as a commercial platform designed by the US-based Superior Air Parts, and earlier this year Shephard reported that it had been armed.
The QY-1 can carry a payload of 160kg. It is capable of carrying a variety of weapons, sensors and equipment, including air-to-ground missiles (e.g. two FT-10 missiles), synthetic aperture radar, satellite reconnaissance equipment and IR sensors.
The Shenzhen Tianxiang Aviation Company was listed, on a brochure at the air show, as being the manufacturer of the UAV, but the QY-1 had the China Science and Technology Corporation (CASC) emblem on its fuselage.
Confusion over the aircraft's origins can be traced back to the original procurement of the aircraft design from Superior Air Parts.
Since 2012, besides CASC, numerous Chinese companies have been listed as the V750 designer and/or manufacturer, including the Aviation Industry Corporation of China, Brantly International, China Electronics Technology Corporation, Qingdao Haili Helicopter Manufacturing Company and Weifang Freesky Aviation Industry Company.
Air show literature indicates that numerous companies worked as part of a 'collectivisation operation and chain layout.'
The V750 was the first, and so far the 'only, unmanned helicopter that has acquired type certification issued by the CAAC [Civil Aviation Administration of China] in China.'
The V750 has a maximum take-off weight of 758kg, top speed of 161km/h, cruising speed of 145km/h and an endurance of six hours.
Mysterious Bee buzzes show
by Wendell Minnick in Zhuhai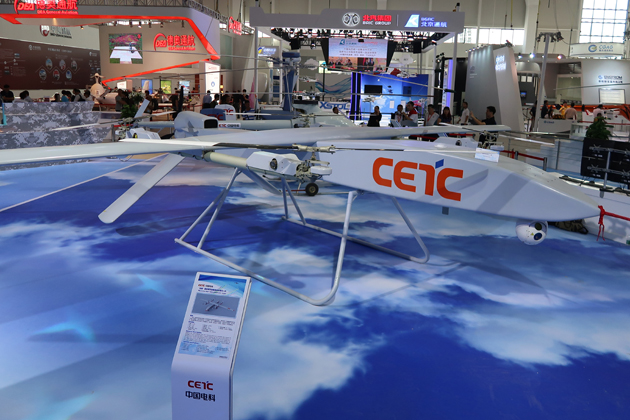 CETC Avionics unveiled an unusual UAV at the 11th biennial Zhuhai Air Show, this being dubbed the Mysterious Bee hybrid quadcopter.
The UAV is a fixed-wing aircraft with a rear propeller and crowned with four-rotors that integrate the advantages of vertical take-off and landing with the high speeds and long range available from a fixed-wing aircraft.
According to a CETC brochure, the aircraft can take off and land on ships, small islets, mountainous areas and other complex terrain.
The aircraft can mount a visible-light camera, infrared imager, laser range-finding/irradiating instrument and other mission payloads to execute ship escort, battlefield surveillance, attack guidance, firepower calibration and island patrol missions.
The aircraft has a maximum take-off weight of 280kg with a 50kg payload. Its service ceiling is 3,000m, and it has a six-hour endurance and maximum range of 800km.
Speeds differ depending on mode. The maximum horizontal speed is 180km/h, but the fixed-wing cruise speed is 140-160km/h.
The telemetry, tracking and command range by line-of-sight link is 200km.
Quadrant covers all sectors
by Gordon Arthur in Zhuhai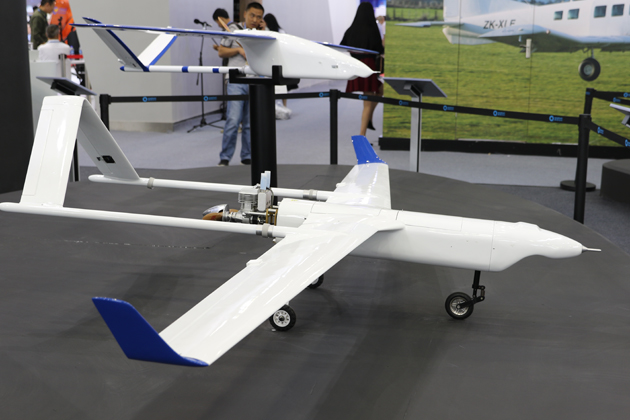 Awing-F20
There was absolutely no shortage of businesses hawking a bewildering array of UAVs at the 11th Zhuhai Air Show in China. Quadrant Space (Tianjin) Technology, a relative newcomer to the field and showing its products to the public for the first time, told Shephard it was not concerned about the multiplication of competition in China.
Quadrant opened its doors for business in April 2015 and, while it has not sold significant numbers of UAVs so far, this is part of its business model. Indeed, Mai HuaZi, power-train system department manager at Quadrant, explained that fully developing a wide range of UAV types to maturity will ensure his company's long-term viability.
While many UAV manufacturers spring up, and disappear, overnight in China, Quadrant expects to continue operating well into the future. It currently has 60 employees, a figure that continues to increase, Mai explained.
Tianjin-based Quadrant is focusing on the Chinese domestic market first before it turns its attention to international sales further into the future
.
Its newest and largest model is the Awing-F100J with a 4.5m wingspan. It weighs 100kg and is powered by a DL275E two-stroke engine sourced from Limbach in Germany. The Awing-F100J cruises at 100-140km/h and has a range of more than 300km or an endurance of six-plus hours.
The Awing-H100J is a 96kg rotary-winged platform measuring 3.63m long and able to lift a 30kg payload. It is powered by a 250cc engine for an endurance of up to four hours.
Returning to fixed-wing UAVs, smaller in size is the Awing-F20 (pictured above) that has a 3.3m wingspan and 22kg maximum take-off weight. It can fly for more than eight hours to a range of 350km.
The Awing-F8E is smaller still with a 3m wingspan and 8kg take-off weight. Its range is in the order of 60km. Its smaller 5.5kg brother is the Awing-F5J/E that flies for 1.5 hours.
Quadrant also has the Awing-X10 and Awing-X5 hex-rotor UAVs available, the former weighing 12kg and the latter 6kg.
As well as using UAV engines from overseas, Quadrant also outsources flight control systems.
Target clients for the wide range of UAVs now being marketed by Quadrant are organisations responsible for public security, forestry, city planning, electricity line inspection and traffic management, amongst a number of other roles.
AVIC unveils SW-6 air-deployable mini UAV
Kelvin Wong, Zhuhai, China - IHS Jane's International Defence Review
The SW-6 air-deployable mini surveillance/electronic warfare UAV shown in its flight configuration with wings fully extended. Source: IHS/Kelvin Wong
The Aviation Industry Corporation of China (AVIC) has revealed the latest addition to its Tian Yi (Sky Wing) tactical unmanned aerial vehicle (UAV) family at the Airshow China 2016 exhibition in Zhuhai.
The Sky Wing 6 (SW-6) is a surveillance or electronic warfare (EW) platform designed for deployment from an aircraft. The mini-UAV features a flattened 1.6 m long fuselage - constructed from lightweight composite materials - to enable the forward (upper) and rear (lower) wing surfaces to be folded for carriage. When fully deployed, the forward and rear wings measure 2.4 m and 2.9 m respectively, all four wings function as flight control surfaces with the latter equipped with winglets for improved flight efficiency and stability.
The SW-6 has a maximum take-off weight (MOTW) of 20 kg and is capable of carrying a 5 kg payload in its nose. This typically comprises a high definition CCD daylight camera or an infrared imager as well as a two-way datalink to stream data to a nearby ground-based terminal. In the EW mode, the SW-6 can be equipped with a range of single or multiband radio frequency (RF) jamming packages.
An electric motor enables the UAV to achieve cruising speeds of 80 to 100 km/h with a flight endurance of 1 hour, with a lithium ion battery providing power to both the motor and payload.
An AVIC spokesperson explained to IHS Jane's that the concept of operations (CONOPS) for the SW-6 is for a carrier aircraft to release the UAV from an altitude of around 2,000 to 3000 m (6,560 to 9,840 ft) to enable its wings to unfold fully and glide itself to its cruising altitude of 1,000 m.
"The SW-6 is designed to fly circuits along a pre-programmed flight pattern around the designated area of operation to send real-time video or imagery intelligence to a tactical station for exploitation," the spokesperson said.
The SW-6 mini UAV shown in its travel configuration on the starboard pylon of the CAIC Z-11WB helicopter, with wings folded flush with its body. (IHS/Kelvin Wong)
AVIC unveils AV500W armed VTOL UAV development programme
Kelvin Wong, Zhuhai, China - IHS Jane's International Defence Review
The AV500W prototype on display in Zhuhai is shown with a mock-up of a 6 kg precision guide bomb that is also under development by AVIC. The weapon features folding fins to reduce its carriage footprint. Source: IHS/Kelvin Wong
The Aviation Industry Corporation of China (AVIC) has revealed its latest armed reconnaissance vertical take-off and landing (VTOL) unmanned aerial vehicle (UAV) at the Airshow China 2016 exhibition in Zhuhai.
Under development by AVIC's China Helicopter Research and Development Institute (CHRDI), the AV500W is essentially a weaponised variant of the civilian model AV500 VTOL UAV modified to improve its structural rigidity, payload capacity, and overall performance for military applications.
According to official specifications, the AV500W has a maximum take-off weight (MTOW) of 470 kg with a payload capacity of 160 kg. This typically comprises a chin-mounted, stabilised electro-optical infrared (EO/IR) sensor turret to enable the air vehicle to perform day/night reconnaissance, battle damage assessment (BDA), as well as target detection and tracking. Other electronic payloads such as a synthetic aperture radar (SAR) and communications relay devices can be carried internally.
The AV500W is the weaponised variant of the civilian model AV-500 vertical take-off and landing unmanned aerial vehicle designed specifically for ground support missions. (IHS/Kelvin Wong)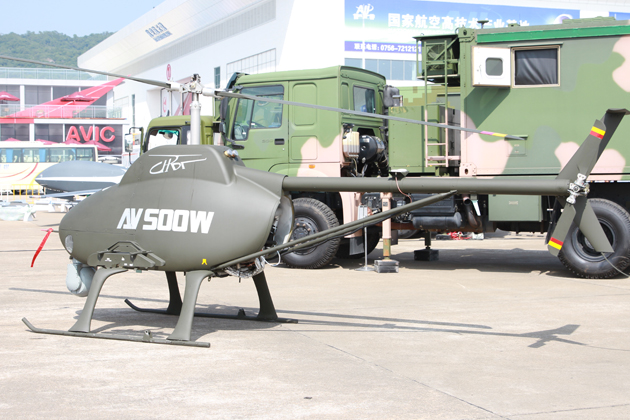 Stub wings on either side of its fuselage can be configured to carry a range of weapons to enable the AW500W to perform armed interventions if required. An AVIC spokesperson told IHS Jane's that the example on display is carrying two 6 kg-class precision guided bomb mock-ups. The yet-unnamed weapon is designed to engage static or slow moving targets up to 5 km away via semi-active laser guidance. This is also currently under development alongside a larger, more capable 10 kg variant.
While the company declined to provide details on the engine, it stated that the AV500W features a cruising speed of 170 km/h, with a maximum endurance of 8 hours when configured and lightly loaded for reconnaissance missions. This is reduced to 4 hours when the air vehicle is fully armed. The air vehicle has a specified operating radius of 200 km via line-of-sight (LOS) command protocols, with a service ceiling of 4,000 m (13,123 ft).
IHS Jane's understands that the AV500W is presently in an advanced stage of development with the production-ready design expected to be finalised in 2017, with its first flight targeted for the same year.
AVIC showcases YINGS III airborne targeting pod family
Kelvin Wong, Zhuhai, China - IHS Jane's International Defence Review
AVIC unveiled a full-sized mock up of the YINGS III model 330 airborne targeting pod at Airshow China 2016. (IHS/Kelvin Wong)
The YINGS III - which stands for Ying Sun III (Hawk III) - targeting pods are developed and manufactured by the company's Luoyang Electro-Optical Equipment Research Institute located in the central province of Henan, with the product portfolio presently comprising three variants with diameters of 330 mm (Model 330), 360 mm (Model 360), and 390 mm (Model 390).
According to AVIC, the YINGS III family adopts a modular architecture to enable the pods to be customised to suit a particular customer's mission requirements, although it can be fitted to most combat aircraft, bomber, and training platforms. A laser rangefinder/designator is a standard feature across all models and configurations, although the pods can be delivered with a high definition daylight CCD TV camera, a infrared (IR) sensor, or a combination of both.
"The YINGS III is a fully indigenous design and we are continually updating the family with our latest technologies," Zhao Jiuming, senior business manager and head of the institute's co-operation section, told IHS Jane's . "For example, the Model 330 shown for the first time here is designed for the latest generation of attack or multirole aircraft."
The latest entry to the YINGS III family is the Model 330, which weighs 230 kg and appears to draw heavily from Lockheed Martin AN/AAQ-33 Sniper advanced targeting pod (ATP) with its swept/faceted transparent sapphire fixed-shroud nose configuration and lightweight, aerodynamic structure which is designed to improve stability at high speed flight.
AVIC states that the Model 330 provides a medium/narrow range field of view (FoV) of 3.6° x 2.7° and 1.2° x 0.9° respectively for the CCD TV camera while the IR sensor offers a FoV of 3.6° x 2.7° and 1.2° x 0.9°.
The YINGS III Model 390 airborne targeting pod has already entered service with the People's Liberation Army Air Force as well as at least one export customer. Seen here is a Model 390 pod at the Pakistan Air Force's JF-17 display. (IHS/Kelvin Wong)