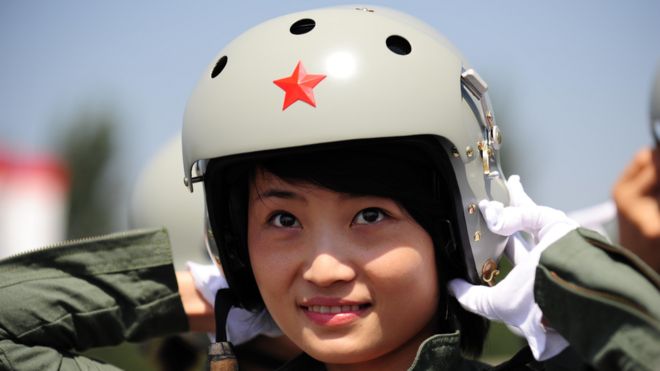 copyright ALAMY
First female J-10 jet pilot, Yu Xu who was killed during an aerobatic training session on Nov. 12.
Ms Yu hit the wing of another aircraft while trying to pull open the parachute, Chinese media reported.
Weibo media report they are practicing close cross over and both plane hit each other and causes uncontrollable spin.
Glamorous: Yu Xu prepares for the performance
at the 10th Zhuhai International Aviation and
Aerospace Exhibition.
A member of the "August 1st" aerobatics
As one of only four female pilots in the country capable of flying domestically made fighter jets,
Ba Yi Air Demonstration Team: From left, Pilots Tao Jiali, He Xiaoli, Yu Xu and Sheng Yifei, seen in Kunming 2015.
Four pilots —  trained on J-7 fighters before transitioning to most modern home-designed jet fighter in service, the Chengdu J-10.
Bayi Aerobatic Team: Yu Xu, Tao Jiali, Sheng Yifei and He Xiaoli seen on the runway of the Zhuhai 2014.
The four women earned their certification for the J-10 on July 29, 2012 and performed in their first international airshow in Malaysia in 2015. The members of the squadron paraded in green flight suits and sun glasses to reenact a famous scene from
Top Gun
.
On the morning of Nov. 12, J-10 fighters from China's prestigious Ba Yi Air Demonstration Team practiced maneuvers over Yutian county, northeast of the city of Tianjin.
Around 9:45 a.m., observers on the ground reported seeing two aircraft collide. Yu and her co-pilot Li ejected. Their stricken J-10 plunged into a farming field near the village of Dangyupan, Hebei province, leaving a crater 10 meters wide in its wake. Li parachuted to the surface and was treated for minor injuries to the arm and leg.
Yu was killed when her parachute struck the wing of the other J-10.
"We have lost a comrade and the air force feels great pain and sadness for Yu Xu's sacrifice," said China's Air Force spokesman Shen Jinke.
Another pilot, 35, survived the crash. He has already been discharged from hospital, the Beijing News reported.
The black box and the engine of the aircraft have already been retrieved. An investigation is underway.
Ms. Yu, joined the Air Force in 2005. She was the first of four female pilots to qualify to fly the two-seater, multi-role J-10 fighter jet.
"I am very lucky that I can fly," Ms Yu had said in an interview. "I don't need to think about anything but flying. If possible, I can look at the skies to divert my attention. It is another world. It's wonderful."
J-10SY two-seater designed to accommodate an instructor and trainee.
Typically, a trainee pilots the plane from the
front
seat, while an instructor advises from the back and can take control of the plane if necessary.
Bayi Aerobatic Team
Funeral photos of China's 1st female pilot of J-10 fighter jet, Yu Xu.