Beautiful chandeliers.
Buried 100 meters (328 feet) underground, the Pyongyang Metro is one of the deepest commuter systems in the world.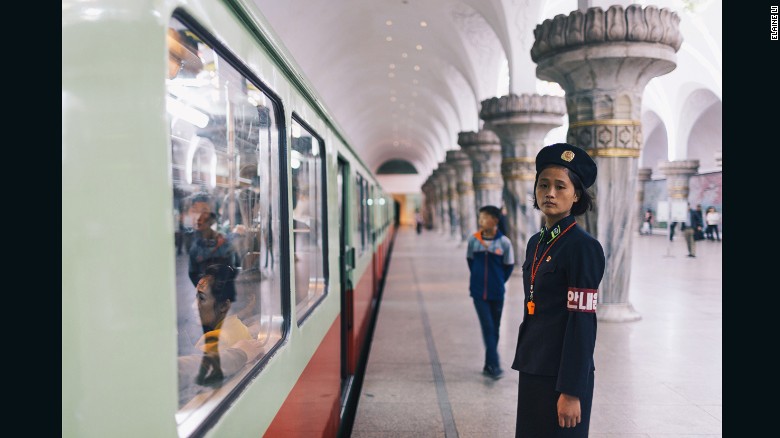 It's also one of the world's most mysterious.
Only a few thousand tourists enter the Democratic People's Republic of Korea each year. Visits are only granted through specific tour groups, itineraries are heavily planned by tour guides, and certain areas are strictly off limits, so everyday life in North Korea is often hidden from outsiders.
B
ut when 25-year-old photographer Elaine Li made her first trip to the North Korea's capital in October, what struck her most was the sense of familiarity.
Born and raised in Hong Kong, Li is no stranger to city life. Her portfolio — largely filled with images of skyscrapers, traffic jams and amusing commutes — has built the young photographer a following of over 133,000 on Instagram.
While schools, restaurants and city landmarks were all on her itinerary, it was a ride in the subway that felt closest to home. She spoke to CNN Style about the experience.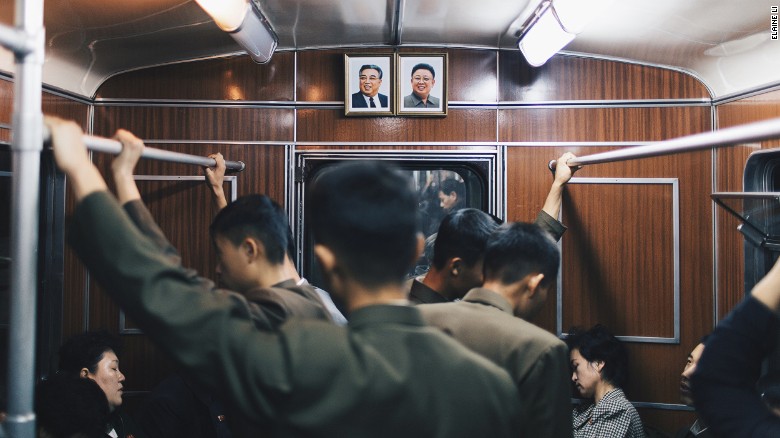 "The first thing I noticed was that, although the stations are very dimly lit, the interiors are very fancy. You see chandeliers on the ceilings, marble pillars and paintings of Kim Jong Il," said Li.
"The next thing I noticed was the newspaper stands that are on display across the platform itself — you'll see people standing around and reading them.
This was all very interesting to me because, in cosmopolitan cities like Hong Kong, we are bombarded with advertising. In Pyongyang, they are bombarded with propaganda," said Li.
"In general, I had no issues getting permission to take photographs on the trains or stations," said Li.
The only restriction was that we were not allowed to take photographs from inside the tunnels, I am not sure why.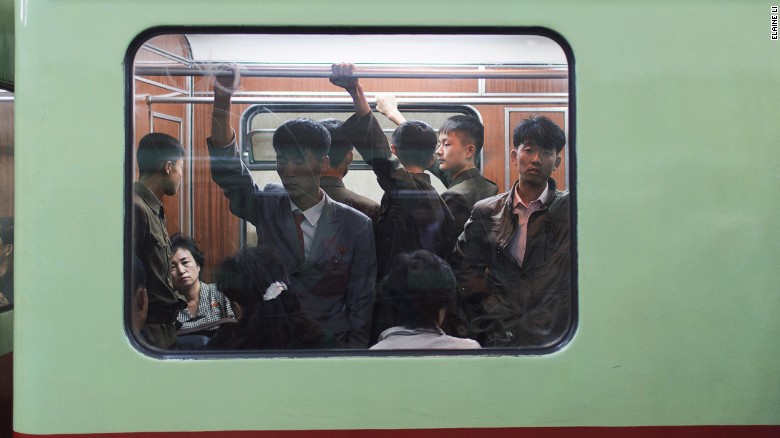 A
s the metro system is so deep underground, i
t can used to

avoid the air raid or

could also be used as an atomic bomb shelter.
Others may see NK as crazy, but they sure know how to plan ahead.
The first thing I noticed was how quiet it was. It seemed so tame — no one was saying anything — and perhaps could even be described as a little lifeless, said Elaine Li.
But then I came back to the subway in Hong Kong and I realised … people here lack communication as well, she added.
Courtesy:
CNN