Test platform for J-20 development including radar and avionics system.
Test platform used to evaluate J-20's AESA radar.
A Russian Tu-204C was acquired and converted to act as an avionics flying lab for the J-20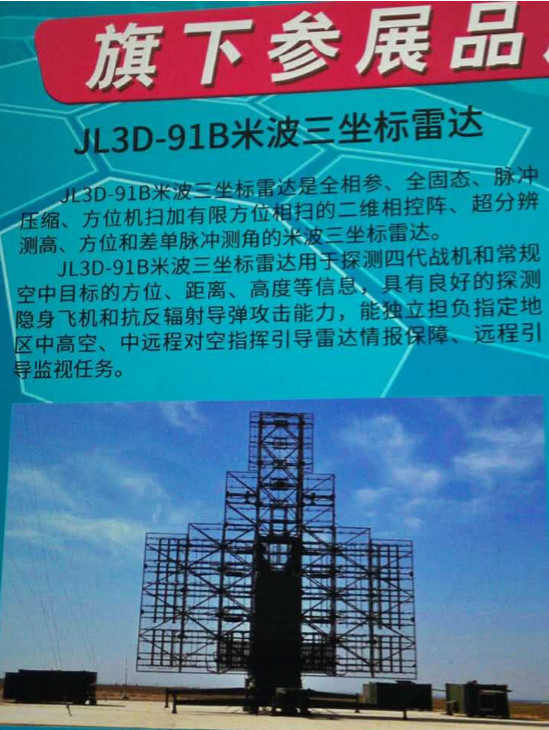 JL3D-91B 3-D VHF radar possessing special anti-jamming, anti-ARM and anti-stealth ability
Second radar cross-section test range identified in China
Sean O'Connor, Indianapolis
- IHS Jane's Defence Weekly
24 May 2016
Key Points
Airbus Defence and Space imagery captured in 2016 shows a new radar cross-section test range in China
A J-20 full-scale test article is present at the new test range, with apparent design changes suggesting either a new powerplant installation or a new aircraft variant under evaluation
IHS Jane's
recently identified a radar cross-section (RCS) test complex in China. Airbus Defence and Space imagery captured on 24 April shows a recently completed test range northeast of Dingxin Airbase (AB) - the second new test site to be identified in the East Asian nation. The first one is located southwest of Beijing near Gaobeidian. A third possible site, predating the new complexes, is situated near Luoyang.
The location near Dingxin AB is well suited for a signature evaluation complex, with flat terrain and a lack of man-made or natural obstructions near the facility. Additionally, the configuration of the J-20 full-scale RCS test article present suggests design changes may be forthcoming to China's fifth-generation stealth fighter.
Along with the Gaobeidian RCS complex, the Dingxin RCS complex illustrates China's increasing attention to low-RCS aircraft design. The Dingxin RCS complex was constructed after the Gaobeidian site, which was built in the 2009 timeframe - perhaps in an effort to establish an RCS test range in a more secure location.
http://www.janes.com/article/60583/second-radar-cross-section-test-range-identified-in-china