Hypersonic glide vehicle
Key Points
The sixth Chinese test of its DF-ZF hypersonic manoeuvring strike vehicle was "successful"
China may be planning such warheads to perform non-nuclear precision strike missions
A sixth test of China's hypersonic manoeuvring strike vehicle, the DF-ZF (previously designated the WU-14), took place on 23 November, according to US officials.
China had signalled that this test was imminent on 18 November when it issued a notice to airmen (NOTAM) covering the same areas as its fifth test on 19 August 2015.
The CASIC Kuaizhou-1 mobile solid-fuel space launch vehicle and its transporter, which could form the basis for a strike system using a version of the DF-ZF hypersonic manoeuvring vehicle. (Chinese internet)
US officials said the latest test achieved a speed of "beyond Mach 5" and was called a "success", according to a 25 November 2015 report in the
Washington Free Beacon
.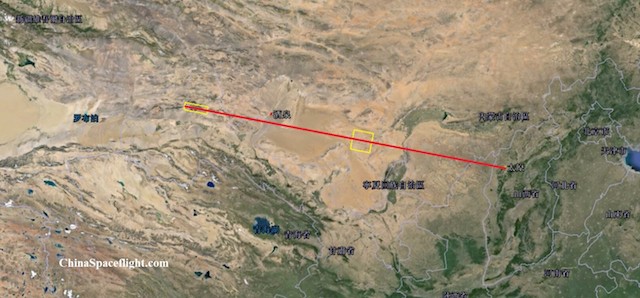 Monday's test of the DF-ZF at the Wuzhai missile test center in Shanxi Province
US officials confirm sixth Chinese hypersonic manoeuvring strike vehicle test | IHS Jane's 360
The DF-ZF hypersonic glide vehicle, which is believed to be capable of speeds of between 4,000 and 8,000 miles per hour (6,440kph and 12,870kph) on Monday was successfully tested for the sixth time in two years.
US intelligence sources say the highly maneuverable weapons system could carry either nuclear or conventional warheads and could probably defeat current missile defenses.
If Beijing continues to test the DF-ZF at this pace, it could actually be deployed by 2020, said Richard Fisher, senior fellow at the Virginia-based International Assessment and Strategy Center.
"A DF-ZF-based strike vehicle could form the basis of a more maneuverable second-generation anti-ship ballistic missile warhead, posing an even greater threat to US Navy ships and carriers that may need to assist Taiwan in the event of a Chinese attack," Fisher said.
Monday's test of the DF-ZF at the Wuzhai missile test center in Shanxi Province was first reported by US national security expert Bill Gertz in the
Washington Free Beacon
.
Gertz said that the DF-ZF weapon was launched atop a ballistic missile from which it separated near the edge of the atmosphere before gliding to an impact range several thousand kilometers away in western China.
He said that on this occasion it flew at speeds beyond Mach 5, or about 6,190kph.
"The high rate of testing for the glide vehicle is an indication China has placed a high priority on the weapon program and that it is making rapid progress," Gertz said.
Fisher told the
Taipei Times
: "China's development of new long-range mobile space-launch vehicles and its hypersonic maneuvering warhead development point to a future Chinese intercontinental non-nuclear capability.
Indo Israeli Barak 8 Missile Defense System
Russian Navy - Salvo firing of two ICBMs "Bulava" from the board of submarine "Vladimir Monomakh"