Prof. Chen Guang (in dark suit) at press conference on
China's major breakthrough in aviation and aerospace materials
A report on June 22
, Professor Chen Guang's success in developing an aircraft engine material much better than US best alloy for aircraft engine.
It seems that the new alloy will allow an engine built with it to operate at 150-200 degrees celsius higher temperature.
Chen has achieved the success through long-term research with the funding from Nanjing Polytechnic University and the state's Program 973.
Prof. Chen's achievement, Polysynthetic twinned TiAl (PST TiAl) single crystals for high-temperature applications, was published on the Internet at
Natural Materials
on June 20.
Optical micrographs of directionally solidified Ti–45Al–8Nb PST single crystals at different withdrawal rate
General Electric development of the Titanium alloy Ti-48Al-2Cr-2Nb (Alloy 4822) as a critical technology for the GEnx engine used in the Boeing 787.
Alloy 4822 was hailed as a sensational success in the development of aircraft engine materials as it reduces the weight of an aircraft engine by 200 pounds, fuel consumption by 20% and discharge of NOx by 80% and significantly lowered engine noise.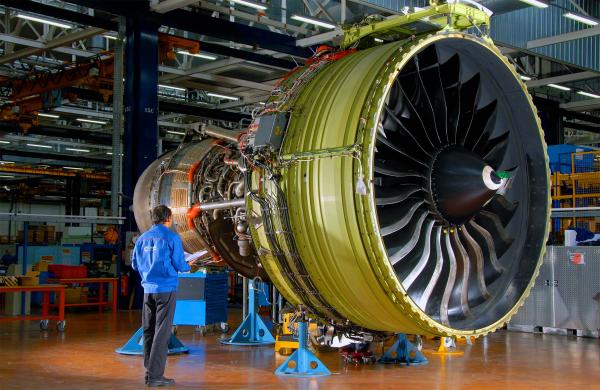 GEnx engine
At room temperature, PST TiAl has high tensile ductility of 6.9%, yield strength of 708 MPa and tensile strength of 978 MPa, a wonderful combination of ductility and strength.
What is more important for aircraft engine alloy, at the high temperature of 900℃ its yield and tensile strength is still as high as 637MPa and it has wonderful creep resistance. Its minimum creep rate and lasting life are
better than Alloy 4822 by one to two magnitudes
.
It is hopeful that the allow may be used above 900℃ much higher that the 650~750℃ for Alloy 4822.
— Nature Materials (@NatureMaterials) July 26, 2016
— Nature Materials (@NatureMaterials) June 21, 2016