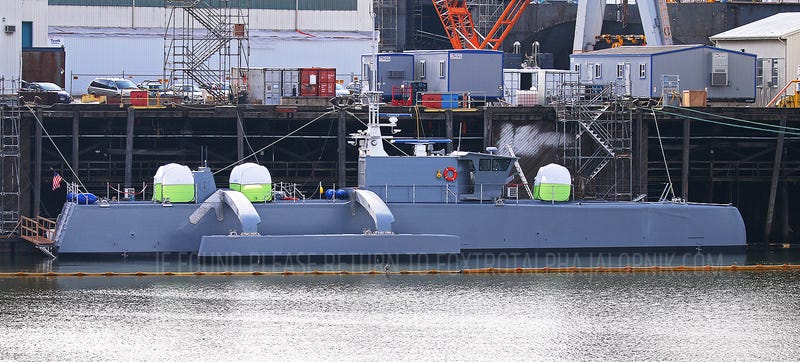 The First Known Image Of DARPA's Submarine-Hunting Drone Ship. foxtrotalpha
ACTUV (Anti-Submarine Warfare Continuous Trail Unmanned Vessel) Concept
The Anti-Submarine Warfare Continuous Trail Unmanned Vessel (
ACTUV
) program, funded by the US Navy's Office of Naval Research and Space and Naval Warfare Systems Command, is responsible for Sea Hunter, which displaces about 140 tons. The prototype will be
"christened"
in Portland, Oregon in April, before an 18-month trial run to test its long-range utility.
The Defense Advanced Research Projects Agency's initiative to build a long-endurance unmanned ship that will hunt and track the quietest submarines on Earth has come to fruition. The image above is the first glimpse ever of the potentially revolutionary Anti-Submarine Warfare Continuous Trail Unmanned Vessel or ACTUV, also known as Sea Hunter.
Sea Hunter
is being developed in conjunction with the Office of Naval Research and the Space and Naval Systems Warfare Command. Engineering industry innovator Leidos and Oregon Iron Works, which is known for its exotic and shadowy ship designs, designed and constructed the exotic experimental vessel.
The ship is set to be christened in April, but she is already in the water at Portland's Swan Island ship building and maintenance facility as local
photographer Paul Carter, who took the image above,
recently discovered.
The 132 foot long robotic sub-hunter is the largest purpose-built unmanned ship ever created. As you can see in the image above, an auxiliary pilot house has been fitted on its sail for initial trials. The design's
trimaran
hull was chosen for its stability, efficiency and speed, allowing it chase submarines over extreme distances in open ocean.
DARPA's priorities for next 2 yrs? Unravel complexity, master information, seed tech surprise.

http://

ow.ly/YgVo2

@

NationalDefense
What you don't see is the ship's under-hull mid-frequency sonar that is installed in a large bulbous protrusion amidships, as well as the high-frequency sonar mounted in smaller underwater protrusions. These will be the ship's primary tools to find, identify and actively track even the quietest nuclear and air independent propulsion (AIP) equipped diesel-electric subs for long stretches of time.
A suite of data links, computers and sensors will allow it to navigate autonomously, communicate with its handlers and predict a sub's next moves.
Sea Hunter
will undergo a set of increasingly challenging trials over the better part of two years, work that could lead to a fleet of similar drone ships deployed around the globe.
A huge thanks to Paul Carter for this shot of Sea Hunter.
Make sure to check out all of Paul's aviation photography work here.