Chengdu J-20. © Alert5 / Wikipedia
Months after unveiling its first fifth-generation J-20 fighter jet, China's People's Liberation Army announced that the advanced aircraft has entered service. The jet is meant to counter the US and its regional allies in a potential battle for air superiority.
The brief announcement on Friday made on state broadcaster CCTV's military and agricultural affairs channel said the J-20 had entered service in the People's Liberation Army Air Force (PLAAF). The report did not provide further details.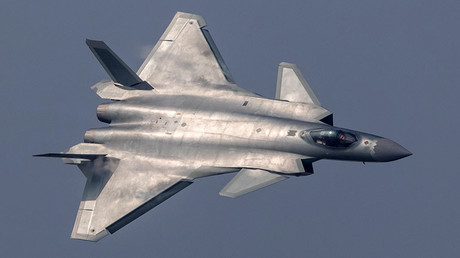 Yang Wei, a top aviation research expert say the development of J-20 stealth fighter is but a minor target. According to Yang's description, China has passed the "dark forest" into bright sunshine. He says, "The one who has the power to speak in innovation in science and technology will be the rule setter."
Yang means that China has passed the stage of adjusting its weapon development according to what others have innovated. Now it is the time for China to innovate weapons to make others adjust their weapon development accordingly.
— Deepak kashyap (@KashyapDeepak83) March 10, 2017
The announcement did not come as a big surprise; in November, the Chinese military demonstrated two J-20s during a pre-announced brief fly-past at the Zhuhai Air Show in Guangdong province, signaling that the aircraft was about to enter service.
The development of the
Chengdu J-20
began in the late 1990s, with the first prototype taking flight in January 2011. Eight prototypes have been built so far, with two being LRIP, or low rate initial production – an indicator that the aircraft design was generally fixed. The
J-20
is yet to receive its designated engine, the Xian WS-15, but has been reportedly tested with China's advanced PL-15 and PL-10 air-to-air missiles.
Beijing has managed to develop an advanced aircraft, which is touted as a weapon meant to counter US F-22 and F-35 fighters, and is surprisingly fast, industry experts say.
— David Bychkov (@davidbychkovceo) March 10, 2017
— BreakingNews-Int. (@breakingnews_no) March 11, 2017
— Tom Hoffay (@tomhoffay) February 27, 2017
"The J-20 is a giant leap for the PLAAF both capability-wise and technology-wise. Did anyone of us expect a Chinese stealth fighter to be operational before 2020 when asked in, let's say, 2010?"
aviation journalist Andreas Rupprecht
wrote
for the Aviationist website at the time the J-20 was first demonstrated.
Modernizing its military to match its economic potential is a strategic goal for Beijing, which has been investing heavily in advanced military technology to close the gap with NATO. In some areas it is already on a par with or possibly surpasses the West, the British International Institute for Strategic Studies warned last month.